Our skin is the largest organ of the body. It is responsible for providing a protective layer to our internal organs and is seen as a beautiful asset, which is why you probably want only the best when getting a diagnosis or treatment for any type of skin condition that you experience.
Medical dermatology refers to the diagnosis and treatment of conditions of the hair, skin, and nails. Board-certified dermatologists Dr. Debra Wattenberg, Dr. Ilyse Lefkowicz and Dr. Jamie Manning are educated and experts in diagnosing and treating all types dermatological conditions.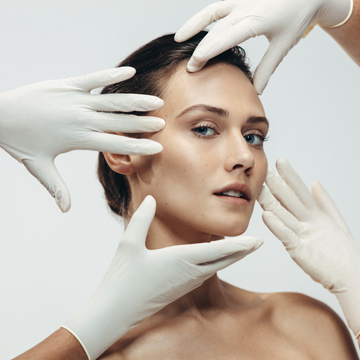 Skin conditions come in different forms, and may appear anywhere on the body. Certain skin conditions can interfere with your life, and lead to embarrassment, and even cause you to feel uncomfortable if you experience inflammation or itching. While certain skin conditions can be cured, others cannot, although they can be managed with proper at-home care and with effective management from your dermatologist.
Skin conditions in Dermatology
Our expert dermatologists also will recommend the best course of action you can take at home to combat your skin condition or to prevent it from flaring up or reappearing.
Our board-certified dermatologists Dr. Wattenberg and Dr. Lefkowicz operate at the forefront of their field, offering state-of-the-art treatments for these various conditions. Treatment options will vary depending on the type of skin condition that you have, as well as the severity of the condition.
What board-certified means
Dr. Wattenberg and Dr. Lefkowicz are board-certified, which means that they have been recognized as a fellow by the American Academy of Dermatology, and have passed additional testing to support their education, training, and knowledge of dermatology. Not all dermatologists are board-certified. It is important, however, to choose a board-certified dermatologist to ensure proper diagnosis and treatment.
Skin Condition Treatments
At NY Skin RX, we approach every visit with a holistic approach. We listen to our patients and construct a treatment plan that is individual and personalized. Treatment for your condition will vary, but we offer prescription strength topical ointments, laser therapy, curettage or removal, cryotherapy, and more. There may even be changes in your lifestyle that can help you manage your skin condition.
Board-certified dermatologists in NYC
Dr. Wattenberg, Dr. Lefkowicz and Dr. Jamie Manning diagnose and treat a variety of skin conditions for patients of all ages including infants and the elderly. If you experience a skin condition, it is best to have it evaluated by a board-certified dermatologist to ensure proper treatment. We also offer a variety of cosmetic treatments to combat the signs of aging, as well as and laser treatments for skin conditions and even hair removal for unwanted hair growth. To learn more about our medical dermatology program and how it could benefit you, give us a call at (212) 288-3200 to schedule a consultation.
NY Skin RX provides state-of-the-art cosmetic and medical dermatology services to patients in Manhattan, the Upper East Side, and throughout New York City.