Do you have a double chin? Do you feel like your jawline is not defined? If so, you're not alone. Nearly 7 out of every 10 Americans have this condition, and nearly 80 percent of people with a double chin are dissatisfied with the effect this has on their appearance. Unfortunately, sometimes a double chin won't go away with the most rigorous regimen of diet and exercise. Luckily, you have options. NY Skin RX can reduce the prominence of your double chin with KYBELLA®.
What is KYBELLA®
KYBELLA® is an FDA approved injectable that is used to contour the face, permanently destroy fat cells and help eliminate a double chin. The active ingredient in KYBELLA®, synthetic deoxycholic acid, enhances the amount of deoxycholic acid that already resides naturally in your system. This acid naturally helps break down and absorb dietary fat; adding a larger quantity of it speeds this process, resulting in a significant decrease in the fullness underneath the chin. In short, KYBELLA® injections may approach the same goal as liposuction, but without any incisions by removing unwanted fat.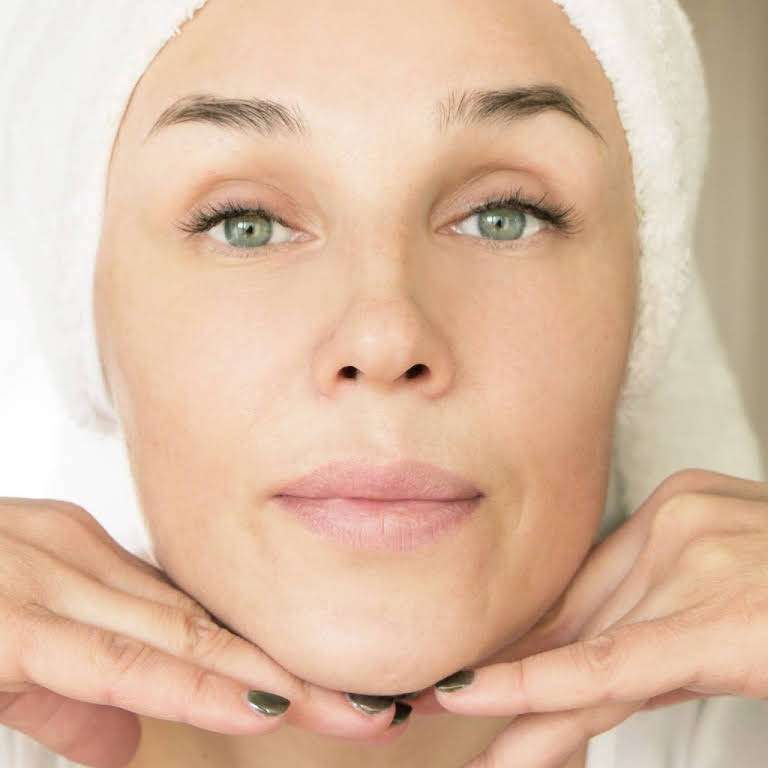 What areas can be treated by KYBELLA®?
The secret to KYBELLA® success can be found in its main ingredient – deoxycholic acid.  When injected into submental fat, deoxycholic acid begins destroying fat cells, while leaving surrounding tissue untouched.  The destroyed fat cells are removed over time by the body's metabolic processes. Kybella® leads to permanent results, as once the fat cells are destroyed, they do not grow back again.
Although KYBELLA® is only FDA-approved for fat reduction underneath the chin, many dermatologists are discovering that this injection can work on other areas prone to stubborn body fat. In fact, in Europe, Kybella® injections are currently used to treat fat around the elbow, upper arms, knees, and even the stomach.
What can I expect after my procedure?
No two people are alike, and your Manhattan dermatologists at NY Skin RX, Drs. Debra Wattenberg, Ilyse Lefkowicz or Jamie Manning, will tailor your KYBELLA® treatment plan to your specific beauty goals.  Each KYBELLA® treatment is quick and easy and takes less than 15 minutes to complete.
KYBELLA® treatments are subtle and it usually takes multiple treatments to achieve your goal. Luckily however, once fat cells are destroyed they do not come back. Just remember it is important to maintain a healthy lifestyle of diet and exercise after the procedure.
Most patients do quite well with Kybella®. Immediately after undergoing a KYBELLA® treatment, you may experience swelling, bruising, or numbness underneath your chin. Mild discomfort, redness, and areas of hardness are also reported side effects. Your dermatologist will review the complete list of potential side effects with you before treatment.
Am I a candidate for KYBELLA®?
KYBELLA® is an excellent option for those looking for a noninvasive way to treat submental fullness or a double chin.
KYBELLA® treatments in New York City
Want to get rid of that double chin once and for all? NY Skin RX is proud to offer KYBELLA® as part of our comprehensive array of services to improve your appearance. KYBELLA® and any other body contouring treatments are administered under the care and supervision of one of our New York City dermatologists, Dr. Debra Wattenberg, Dr. Ilyse Lefkowicz or Dr. Jamie Manning. To learn more about KYBELLA® and how it could benefit you, give us a call at (212) 288-3200 to schedule a consultation.
NY Skin RX provides state-of-the-art cosmetic and medical dermatology services to patients in Manhattan, the Upper East Side, and throughout New York City.