Any type of skin redness can make you feel self-conscious about your appearance. The New York City board-certified dermatologists Drs. Debra Wattenberg, Ilyse Lefkowicz and Jamie Manning at NY Skin RX can eliminate redness of the skin through the use of the Vbeam laser.
What is Vbeam Laser?
Vbeam is a brand of pulsed-dye laser (PDL).  Vbeam is sometimes called a vascular laser because it treats many issues related to blood vessels, such as broken capillaries, port wine stains, rosacea, spider veins and strawberry hemangiomas.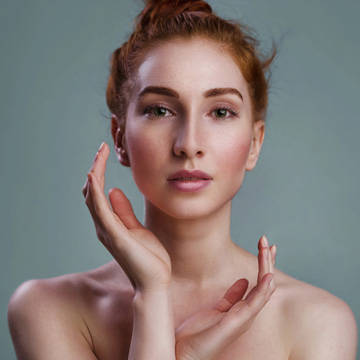 How does the Vbeam laser work?
NY Skin RX uses the Vbeam laser to eliminate broken capillaries and redness. This sophisticated tool emits a bright and powerful laser light, which is absorbed selectively into blood vessels to destroy the affected vessels that are causing the redness. Some of the affected blood vessels will disappear immediately once the Vbeam laser makes contact with them. Other blood vessels may take several treatments to respond.
Treatment with the Vbeam produces a more even skin tone resulting in a more rested and youthful-looking overall appearance, without the downtime of other cosmetic therapies.
What skin conditions can be helped through a capillary laser procedure?
A capillary laser can treat any of the following:
Facial redness
Broken capillaries and angiomas, which cause the appearance of red dots
Rosacea
Port wine stains
Small red veins appearing on the face, neck or chest
Bruising caused by fillers and Botox®
Administered over a series of appointments scheduled at intervals, the Vbeam laser also has been successful in treating scars and stretch marks.
Is a capillary laser treatment right for me?
The Vbeam laser works best on blood vessels that have become visible on the surface level or any type of background redness. The procedure works best on lighter skin tones, and on people who have not been tanning. Patients should avoid excessive sun exposure and tanning cream for two to four weeks before undergoing capillary laser treatment.
Why should I consider having capillary laser treatment?
Undergoing a procedure that involves the Vbeam laser is relatively quick, convenient, and affordable compared to other methods your Upper East Side dermatologists could use to correct the appearance of skin redness.
Other benefits of capillary laser treatment that may make this procedure right for you include the following:
Minimal risk. Side effects are mild and include temporary swelling and bruising.
Zero downtime. You can resume your normal routine immediately following the procedure.
Minimal pain. The Vbeam laser uses a cooling device that, when applied to the surface of the skin, eliminates any discomfort the laser may cause during the treatment.
Vbeam Laser treatments in New York City
NY Skin RX is excited to offer Vbeam laser technology to help our patients dealing with unwanted skin redness. You no longer have to hide your skin or feel self-conscious about how you look. The results from Vbeam laser will help restore your confidence. To learn more about Vbeam and how it could benefit you, give us a call at (212) 288-3200 to schedule a consultation.
NY Skin RX provides state-of-the-art cosmetic and medical dermatology services to patients in Manhattan, the Upper East Side, and throughout New York City.