Our skin takes a beating on a day-to-day basis. Sun damage, acne, and the effects of natural aging can wreak havoc on the appearance of your skin. By receiving a Fraxel laser treatment, your New York City dermatologists Drs. Debra Wattenberg, Ilyse Lefkowicz and Jamie Manning at NY Skin RX can turn back the clock and rejuvenate your skin to give you a more youthful-looking appearance.
What is Fraxel?
Fraxel treatments are laser treatments that improve the texture of most skin types and colors. Fraxel Laser Skin Resurfacing is an FDA-approved fractional laser that helps to restore your skin's texture and achieve smooth, fresh, younger looking skin, improved tone and texture, smaller pores, reduced brown spots, acne scars, and surgical scars, and reduces fine line lines and wrinkles.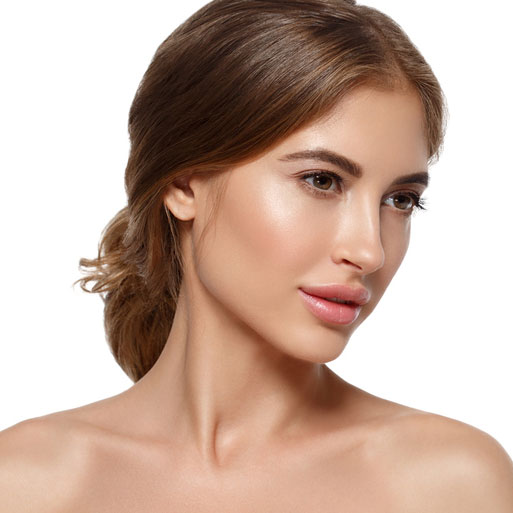 How does Fraxel work?
When you undergo a Fraxel treatment, the laser emits infinitesimal columns of light, which travel below the skin and form many tiny microthermal zones—more than 1,000 per square centimeter of your skin. Once these zones form, your body pushes out the old skin to the surface, replacing it with new, younger-looking skin. A Fraxel treatment also stimulates the production of collagen, a protein that is crucial to skin health and a youthful appearance. Your collagen production diminishes naturally as you age, but Fraxel encourages more collagen, helping new, healthy skin cells to grow quickly.
What areas can be treated by Fraxel?
A Fraxel laser treatment can be used on the face, neck, and chest, but also may be applied to other areas of the body such as the arms, legs, and back. Some patients reach their aesthetic goals after just one treatment, but in many cases, a full regimen of treatment consists of three to five separate appointments, each of which is scheduled at intervals of at least  four weeks. Following a series of Fraxel treatments, your skin should start to reach its optimum appearance within two to three months. This time frame allows your body to heal and produce collagen to replace any damaged tissue. 
What can I expect during a Fraxel treatment?
NY Skin RX will apply a topical numbing cream to the area of skin being targeted, making sure that you experience minimal discomfort during the procedure. Cold air using a Zimmer Cooler is also applied to the treatment area while the laser is being used. You likely will experience an increased sensation of heat during the procedure, and afterward many patients feel as if they have a sunburn for  a few hours.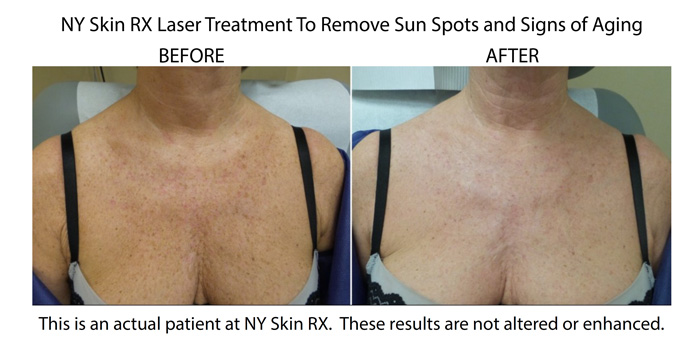 When can I start seeing results?
After a Fraxel treatment, it usually takes 5-7 days to see the improvement in the appearance of your skin.
An improved, more even skin tone and texture
More youthful and radiant-looking skin
Minimizing the appearance of fine lines and wrinkles
Reducing sun damage
Reducing the prominence of acne scars, as well as surgical scars
Reducing precancerous lesions caused by sun damage
Fraxel also can be used to treat actinic keratosis, a condition that refers to scaly or crusty areas that develop from excessive exposure to UV rays, which often are considered pre-cancerous.
What are the benefits of Fraxel?
Non-invasive –A Fraxel laser treatment involves no surgery or needles.
Precise –The Fraxel laser targets the specific area of skin being treated, so it is safe.
Fast acting –You will notice a positive change in your appearance after a single treatment.
Minimal downtime –You can resume your normal routine in. about 5-7 days.
After-care instructions
After undergoing a Fraxel treatment, you should be mindful of sun exposure. Use a sunscreen with a minimum SPF of 30, and avoid direct sun exposure for at least three months following your Fraxel treatment.
Fraxel Treatments in New York City
If you are ready to have younger-looking skin with a reduction in wrinkles, smaller pores, and smoother skin, then Fraxel laser treatments may be right for you. At NY Skin RX, we are proud to offer this non-surgical treatment to help our patients achieve that confident feeling again. To learn more about Fraxel and how it could benefit you, give us a call at (212) 288-3200 to schedule a consultation.
NY Skin RX provides state-of-the-art cosmetic and medical dermatology services to patients in Manhattan, the Upper East Side, and throughout New York City.