Skin naturally loses volume and elasticity as part of the aging process. This occurs due to an inevitable deterioration in the collagen, hyaluronic acid, and elastin fibers in your skin, as well as sun damage. This loss of volume usually is most noticeable around the eyes, mouth, cheeks, and jawline. You can turn back the clock and regain a more youthful-looking appearance by having Manhattan dermatologists, Drs. Debra Wattenberg, Ilyse Lefkowicz, and  Jamie Manning administer soft tissue fillers to enhance your appearance and reverse the signs of aging.
What are Soft Tissue Fillers?
Soft tissue fillers are treatments that temporarily produce a more youthful appearance. These fillers are typically derived from hyaluronic acid, a type of sugar, and are administered via injection. Soft tissue fillers add volume to the targeted area, smoothing skin and lessening the prominence of wrinkles.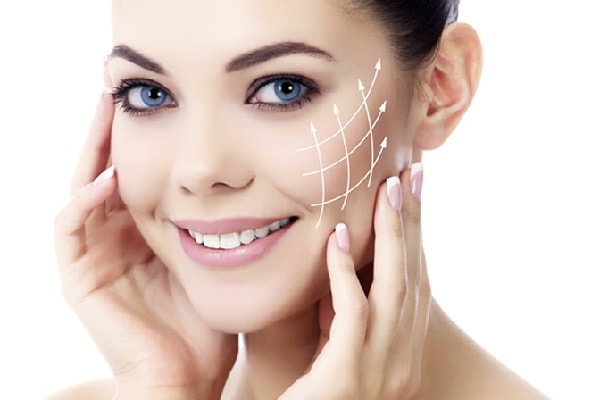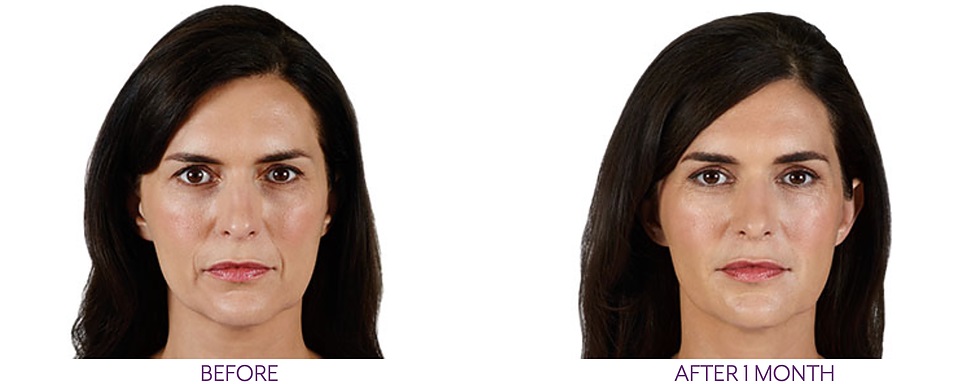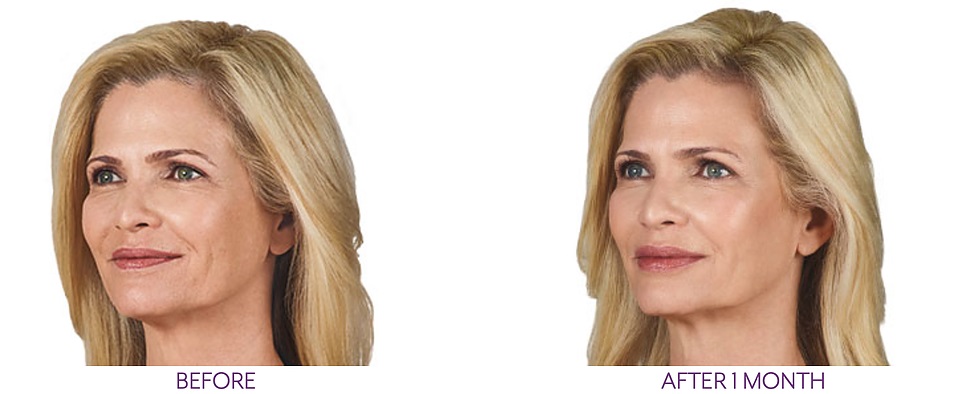 What types of Soft Tissue Fillers are available at NY Skin RX?
If you are interested in receiving soft tissue filler injections in Manhattan, you should consult with a board-certified dermatologist. At this consultation, your facial structure and skin tone will be evaluated to help determine the ideal treatment for you. Working with our dermatologists we will determine which areas should be targeted to ensure maximum results. At NY Skin RX, we work with a wide variety of different fillers, each of which has its own distinctive benefits. Our Upper East Side dermatologists Dr. Debra Wattenberg, Dr. Ilyse Lefkowicz, and Dr. Jamie Manning always place a high emphasis on patient safety; as a result, we offer some of the most effective and popular soft tissue fillers that have been approved by the Food and Drug Administration.
NY Skin RX offers the following soft tissue fillers:
Restylane® , Restylane Lyft, Refyne and Defyne– This hyaluronic acid gel is made with non-animal protein and has minimal allergenic potential. It is used most often on the creases from the nose to the mouth, the corners of the mouth, the contours of the cheek and chin, around the lips, and the back of the hands. The effects of a Restylane® treatment typically last around six months or longer.
Juvederm® Ultra, Ultra Plus – Made of cross-linked hyaluronic acid, JUVÉDERM® is ideal for improving the elasticity of skin, making the treated area appear more smooth and supple. Minimally allergenic, the smooth and malleable consistency of this gel produces an instant difference in volume and helps to smooth wrinkles and folds. A single JUVÉDERM® treatment usually lasts around six months or longer.
Voluma® – The newest filler produced by JUVÉDERM®, this gel is formulated with lidocaine to ensure minimal discomfort and is ideal for restoring age-related changes in the cheeks. VOLUMA® has an excellent lifting capacity and, compared to other fillers, degrades at a slower rate and lasts almost twice as long.
Volbella® – This injectable gel is designed to temporarily augment the lips and correct the appearance of "lipstick lines," another term for wrinkles around the mouth. A VOLBELLA® treatment will typically last 6 months to one year.
Vollure™ – This filler is designed to treat the area around the mouth and nose—specifically, the nasolabial folds and the parenthesis around the mouth. The results of a JUVÉDERM VOLLURE™ treatment usually lasts 6-12 months.
What areas can be treated by Soft Tissue Fillers?
Injectable fillers can be used to fill out or enhance areas of the face and even the hands.
Soft tissue fillers can be used to treat:
Nasolabial folds
Marionette lines
Vertical lip lines
Chin wrinkles
Lip augmentation
Temporal hollows
Cheek augmentation
Orbital rim
Neck lines
Hands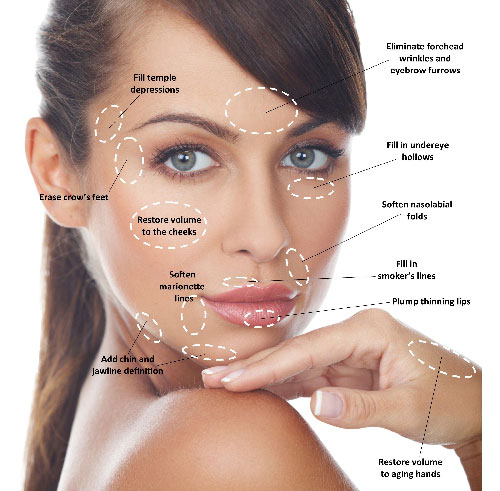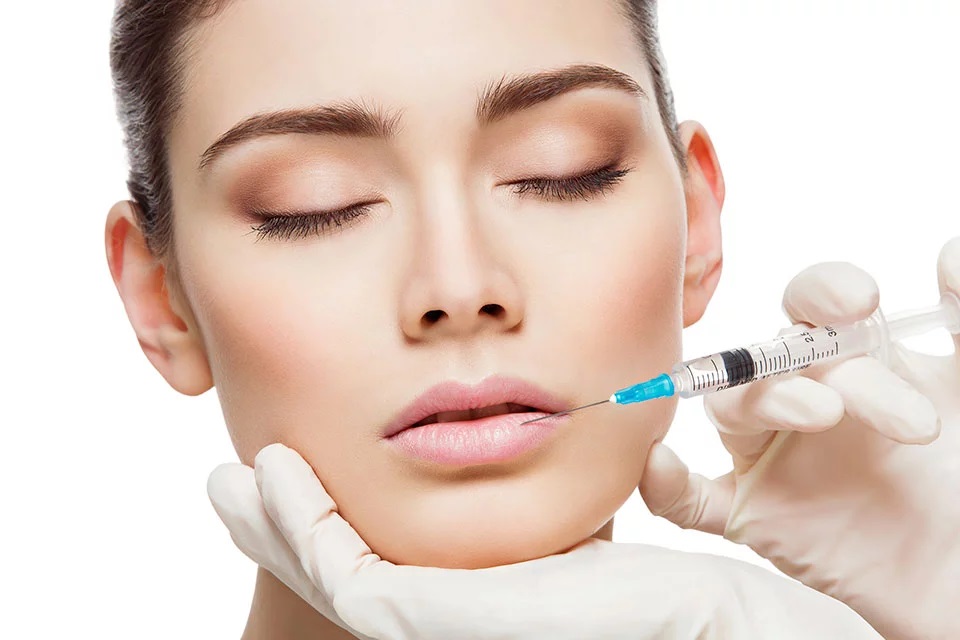 What can I expect after my procedure?
Injectable fillers are used to enhance cheekbones, create plump lips, define the jawline and eliminate areas of the face that may seem hollow, including laugh lines and marionette lines. Patients usually experience minimal discomfort when receiving soft tissue filler injections, but all pain can be avoided by applying a topical numbing cream prior to the procedure. Treatments are usually completed in 15-30 minutes depending on the area being treated. You can resume your regular routine right away, although bruising and swelling may occur immediately following the procedure. You should notice immediate results after a soft tissue filler procedure, although the type of filler that was injected, as well as which area was targeted also influences how quickly you see results.
Am I a candidate for Soft Tissue Fillers?
The ideal patient to receive soft tissue filler injections is in good overall health and does not smoke. These fillers are great for those looking to enhance their natural features while maintaining subtle changes.
Soft tissue filler treatments in New York City
Enjoy the benefits of smoother, younger-looking skin by receiving a non-invasive and convenient soft tissue filler injection at NY Skin RX. All of these treatments are administered under the supervision of one of our Manhattan dermatologists to minimize the risk of complications. To learn more about soft tissue fillers and how it could benefit you, give us a call at (212) 288-3200 to schedule a consultation.
NY Skin RX provides state-of-the-art cosmetic and medical dermatology services to patients in Manhattan, the Upper East Side, and throughout New York City.