Are you concerned about sagging skin or the signs of aging on your face or neck? Do you have lines and wrinkles that you find aesthetically displeasing? If so, you might want to consider having Ultherapy, a non-invasive procedure that can improve these issues. Ultherapy is routinely administered by our expert Manhattan dermatologists, Drs. Debra Wattenberg, Ilyse Lefkowicz and Jamie Manning at NY Skin RX.
What is Ultherapy® and why is it a popular treatment option?
Using ultrasound energy that is focused to specific target areas, Ultherapy® lifts and tightens skin without surgery by targeting the skin's foundational layer. This treatment stimulates the production of collagen, a protein that naturally plays a pivotal role in maintaining younger-looking, healthy skin. Previously, the only way to target and treat these supporting layers of the skin was by undergoing cosmetic surgery. Ultherapy®, is a minimally invasive, non-surgical procedure that doesn't require any downtime to recover, and is approved by the Food and Drug Administration.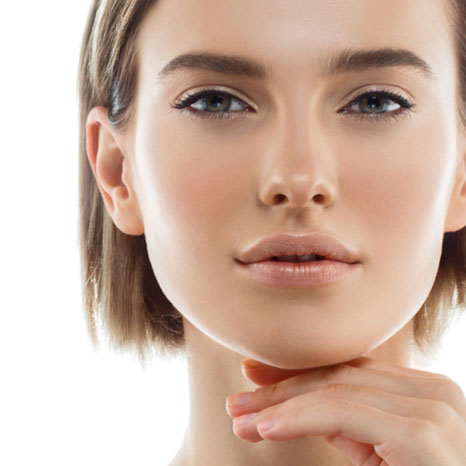 Ultherapy® is ideal for both men and women. It is used to target a variety of different areas of the body including:
Brow area
Crows feet
Under eye
Cheeks
Jawline
Neck
Décolleté
Knees
Abdomen
Treatments usually are completed in an hour to an hour and a half. Repeat treatments, if necessary, will be scheduled at 6-12 month intervals to ensure continued improvement.
What to expect with Ultherapy®?
A successful session of Ultherapy® produces skin that is stronger, tighter and firmer, with fewer lines and wrinkles. You may experience some discomfort during the procedure, comparable to tiny rubber bands snapping against the skin. Any discomfort can be managed with a pain reliever that is taken prior to your appointment and the use of PRO-NOX, a patient-controlled analgesic system that delivers nitrous oxide laughing gas. Your skin may appear flushed or red following Ultherapy®. Swelling and/or tenderness also may occur, although these side effects usually fade quite quickly. Lasting results from Ultherapy® can be seen over a span of the next few months following the procedure, as the amount of collagen builds in the skin.  Follow-up treatments will depend on your degree of skin laxity, and how the body responds to the ultrasound energy and the collagen-building process that it stimulates.
Find out if Ultherapy® is right for you
If you are experiencing some degree of undesirable laxity or looseness of your skin, you might be a good candidate for Ultherapy®. Having loose skin or lines and wrinkles on the face, under the chin, neck, chest, abdomen or knees can all be signs that Ultherapy® could be the ideal treatment option for you.
Ultherapy Treatments in New York City
NY Skin RX always strives to provide the highest level of care to our patients. This includes a commitment to using the latest advances in technology, such as Ultherapy®, which helps patients achieve the confidence that they desire, but without the need for surgery. To learn more about Ultherapy® and how it could benefit you, give us a call at (212) 288-3200 to schedule a consultation.
NY Skin RX provides state-of-the-art cosmetic and medical dermatology services to patients in Manhattan, the Upper East Side, and throughout New York City.