New York City and Manhattan, NY
When your face becomes red from breakouts, it is easy to assume the problem is acne, but that isn't always the cause. A common skin condition, known as rosacea, also can cause the skin on the face to become red, inflamed, and even breakout. Board-certified dermatologists in NYC at NY Skin RX want to help you distinguish the difference between these two common skin conditions, and provide suggestions on what you can do if you end up with one of them.
Acne – Signs and Symptoms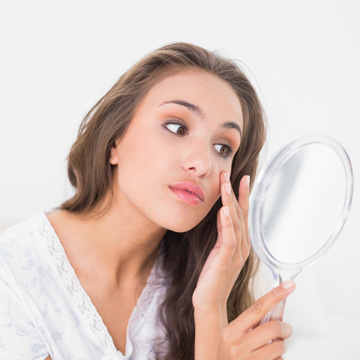 Acne may present in various forms including blackheads or whiteheads, pimples or pustules, and painful cysts or nodes. While redness may occur, it typically is limited to the area of the acne spots, not widespread over the cheeks and nose. With acne, skin texture tends to feel bumpy and is prone to being oily, especially along the forehead, nose, and chin.
Acne most commonly appears on the face, chin, neck, upper back, and chest. It usually affects teens and tweens, although infants and older adults may also battle this embarrassing skin condition. People of all races and skin types may develop acne.
Rosacea – Signs and Symptoms
Rosacea appears to be red with pimple-like breakouts, although no blackheads usually are present. Redness may occur on the cheeks, forehead, nose, chin, and even the eyes. The redness may come and go, and in some individuals, it may be permanent unless treatment is sought.
Large pores and visible blood vessels are noticeable when rosacea affects the skin. When rosacea affects the eyes, it can lead to bloodshot eyes or red and swollen eyelids. This can be quite uncomfortable in most cases.
Rosacea can be aggravated by certain cosmetics, perfumes, sunscreens, and other skin care products, and may result in itchy, burning skin. While rosacea most often affects the face, it is known to appear on the neck, chest, upper back, and even the scalp. Adults older than 30 years of age are most likely to develop rosacea, and it can affect any race or skin tone.
How your Manhattan dermatologist can help with rosacea
Both of these conditions require medical treatment by a board-certified dermatologist. While you can do your part by taking good care of your skin and keeping it protected from the sun, each of these conditions requires different treatment by a dermatologist. It is best to have your skin condition evaluated, because it most likely will not heal on its own, and could end up causing extensive damage to your skin.
At NY Skin RX, we provide various treatments for both acne and rosacea. We welcome patients to our office who may be dealing with the embarrassing effects of these skin conditions or any other type of skin condition that may be bothering you. To learn more about our treatment program, or to set up an appointment for a consultation, we invite you to call our office at (212) 288-3200.
NY Skin RX serves the New York City areas of Manhattan and the Upper East Side.