New York City and Manhattan, NY
Are you dissatisfied with what you see when you look in the mirror? We all age, and these signs of aging can be apparent in your skin, often in the form of visual evidence such as fine lines and wrinkles, sun damage, or uneven skin tone. At NY Skin RX, our medical dermatologists can rejuvenate your skin with a chemical peel. Here are the answers to some frequently asked questions about chemical peels, as asked by patients just like you.
Why are chemical peels so popular?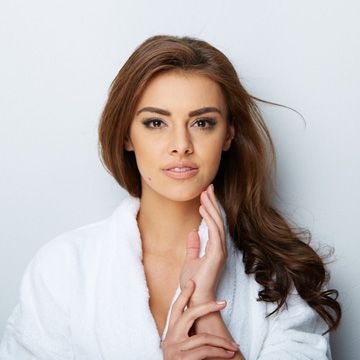 Chemical peels are versatile. A chemical peel can produce a more even skin tone, reduce the signs of sun damage, minimize the appearance of fine lines and wrinkles, make scars (including acne scars) less prominent, help with areas of irregular pigmentation, lighten age spots, assuage the appearance of freckles, smooth out skin that feels rough, and reduce the size of pores.
Chemical peels also are convenient. Depending on the concentration of the active ingredient, a chemical peel in Manhattan can be performed in less than an hour. These treatments even achieve many of the same treatment goals as a laser therapy procedure and do so at a lower cost.
What types of chemical peels are available?
Chemical peels are divided into categories, based on the level of penetration that the peeling solution makes into the skin. There are superficial chemical peels, medium peels, and deep peels. The deeper the peel, the more significant the results will be. However, that also means longer recovery time. It's best to choose a peel that fits your skincare needs, rather than based on healing times.
Make sure you have your chemical peel in Manhattan performed only at a facility that is fully licensed.
At NY Skin RX, we offer all three types of chemical peels, using active agents such as glycolic, salicylic, trichloroacetic and Jessner. The active agents can be used in several different concentrations to address the specific needs of each individual patient.
What can you expect from a chemical peel?
No matter which type of peel you choose, the active agent removes a thin layer of your outer skin, doing so without harming the deeper layers. Removing this outer layer also removes many of the common flaws and abnormalities that people experience on their skin. We can perform a chemical peel on almost any area of the body, not just the face. Patients may opt to have a chemical peel on their neck and arms, for example, as these are also highly visible areas.
Are chemical peels right for me?
Certain conditions can prevent chemical peels from being the right choice for you. These conditions include a history of abnormal skin scarring, a naturally dark skin tone, or scars with extra pigmentation. There also are certain issues that do not respond well to a chemical peel, such as extremely saggy or drooping skin, deep wrinkles and lines, very large pores, broken capillaries, and deep scars.
Chemical Peels in Manhattan
The active ingredients in chemical peels are powerful, which is why it's important to choose a qualified dermatologist to provide you with this service. Special training is entailed to administer peels in a safe manner, and any chemical peel should be performed only under the supervision of a physician with extensive training and knowledge… a physician like Drs. Debra Wattenberg and Ilyse Lefkowicz at NY Skin RX. To learn more about chemical peels and if they are right for you, schedule a consultation at our office today by calling (212) 288-3200 if you live in Manhattan or anywhere in New York City.