New York City and Manhattan, NY
A double chin can make you self-conscious, but this feature is more common than you might realize. Statistics compiled by the American Society for Dermatologic Surgery found that almost 70 percent of adults in the U.S. battle a double chin. Now for the good news … if you're unhappy with the double chin you see when you look in a mirror, modern cosmetic treatments make it easier than ever to resolve this aesthetic flaw. Read on to see how NY Skin RX can help correct double chins for our patients in Manhattan.
How do people develop a double chin?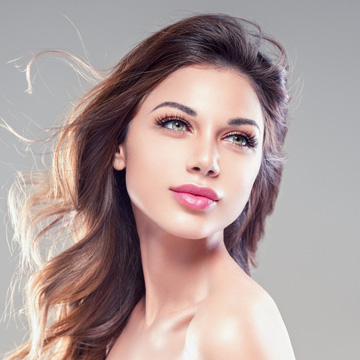 A double chin, which is referred to in a clinical setting as submental fullness, forms due to an excess of fat that accumulates underneath the chin, creating the appearance of an extra layer. If your skin is losing its elasticity, the double chin will be more noticeable. Although a double chin usually is associated with being overweight, people of all shapes and sizes can develop a double chin. Heredity, anatomy, and even the positioning of your airway may influence the shape of your chin and neck.
How can NY Skin RX correct a double chin?

Kybella is an injectable that can help to minimize the appearance of a double chin. The active ingredient is made with deoxycholic acid, a chemical that your body produces naturally to help absorb fat. Most successful for patients with mild to moderate double chin, Kybella can be administered in 15 to 30 minutes. Repeat treatments usually are needed—anywhere from two to six total procedures, usually scheduled at one-month intervals.
Kybella is the only FDA-approved injectable to be used for fat reduction under the chin. Results should be permanent, as long as you continue living a healthy lifestyle, including eating a balanced diet and exercising regularly. There isn't any downtime with Kybella injections, although some minor swelling and bruising may occur.
UItherapy focuses on skin tightening rather than fat removal and is intended for individuals who may have just achieved significant weight loss. The area under your chin is exposed to ultrasound impulses, which initiate your body to increase its production of collagen and elastin—two natural proteins that are key to your skin looking young, vibrant, and having good elasticity.
Patients describe Ultherapy treatment like having rubber bands snapped against the skin. While many patients tolerate the treatment quite well, we do offer a topical analgesic to numb the skin and ensure you remain comfortable during your treatment. Expect to experience some minor swelling and tenderness to the treatment area, these side effects will subside rather quickly, and you can plan on returning to work after your appointment. There is no recovery time, and results typically start to become visible after about two weeks.
Just like other cosmetic treatments, live a healthy lifestyle to prolong your results.
Treating double chins in Manhattan
Don't let your double chin make you afraid to look in the mirror. To learn more about the ways that our board-certified dermatologists, Dr. Debra Wattenberg and Dr. Ilyse Lefkowicz, can treat this issue, call NY Skin RX at (212) 288-3200 to schedule a consultation at our office on the Upper East Side. We're proud to serve our patients located in Manhattan or anywhere in New York City.